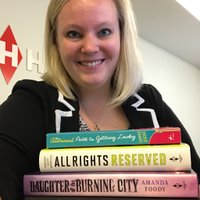 Lauren Smulski
"Nevertheless, she persisted." Associate Editor @ Inkyard Press, aka rabid consumer of all the words. And the wine. And the Reese's. My tweets are all mine.
New York, NY

Lauren Smulski @LaurenES · 26 Feb 2018
Related to my READY PLAYER ONE tweet: Latest addition to my #MSWL is a VR-based gamer book, but less like RP1 and more like WARCROSS with a kickass female MC. Would vastly prefer an Emika Chen or Princess Shuri-type protag over Wade Watts. Where's the stories for Art3mis & Aech?!