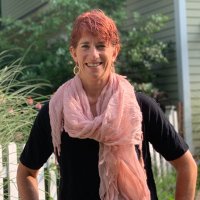 Jessica Faust
Literary Agent
President & founder of BookEnds Literary Agency, author advocate, optimist, & professional pain in the ass. Runs on coffee, wine, & kettlebells. She/Her

Jessica Faust
@BookEndsJessica
Literary Agent
President & founder of BookEnds Literary Agency, author advocate, optimist, & professional pain in the ass. Runs on coffee, wine, & kettlebells. She/Her

I love friendship stories, mother/child, complicated relationships and partnerships, In all of this I want more marginalized authors. There are just too many voices and stories not being heard and told. #MSWL

Jessica Faust
@BookEndsJessica
Literary Agent
President & founder of BookEnds Literary Agency, author advocate, optimist, & professional pain in the ass. Runs on coffee, wine, & kettlebells. She/Her

My areas of expertise are upmarket and literary fiction, women's fiction, mystery, suspense and thriller. I love books w/ strong family focus (found, friends, those you're born with) and home. Even in mystery I love those connections #MSWL

Jessica Faust
@BookEndsJessica
Literary Agent
President & founder of BookEnds Literary Agency, author advocate, optimist, & professional pain in the ass. Runs on coffee, wine, & kettlebells. She/Her

In fiction I definitely want more upmarket, literary, women's fiction as well as suspense, thriller, and mystery. I'm looking for women's stories, personal growth, friendship stories (a friendship breakup book). #LGBTQ stories and authors #MSWL

Jessica Faust
@BookEndsJessica
Literary Agent
President & founder of BookEnds Literary Agency, author advocate, optimist, & professional pain in the ass. Runs on coffee, wine, & kettlebells. She/Her


Jessica Faust
@BookEndsJessica
Literary Agent
President & founder of BookEnds Literary Agency, author advocate, optimist, & professional pain in the ass. Runs on coffee, wine, & kettlebells. She/Her

That's it, more women's fiction with girls trips. Or, a domestic suspense featuring women's friendships (maybe a girls trip). #MSWL I also love the idea of a book featuring new and old wives/spouses.

Jessica Faust
@BookEndsJessica
Literary Agent
President & founder of BookEnds Literary Agency, author advocate, optimist, & professional pain in the ass. Runs on coffee, wine, & kettlebells. She/Her

I was helping @jamerrson craft his #MSWL & realized I should post a few of my own. I'd love to see wine-related women's fiction -- set a vineyard, a girls trip, like Sideways, but featuring friendships. A birthday trip? Girls trip?

Jessica Faust
@BookEndsJessica
Literary Agent
President & founder of BookEnds Literary Agency, author advocate, optimist, & professional pain in the ass. Runs on coffee, wine, & kettlebells. She/Her

I'm still looking for domestic suspense, but am tired of the husband/wife scenario. I'd like one featuring a mother and child or a friendship. #askagent #MSWL

Jessica Faust
@BookEndsJessica
Literary Agent
President & founder of BookEnds Literary Agency, author advocate, optimist, & professional pain in the ass. Runs on coffee, wine, & kettlebells. She/Her


Jessica Faust
@BookEndsJessica
Literary Agent
President & founder of BookEnds Literary Agency, author advocate, optimist, & professional pain in the ass. Runs on coffee, wine, & kettlebells. She/Her

I would really like a women's relationship story actually set at the beach somewhere. Friendships, sisters, sisters-in-law... #MSWL