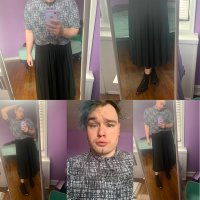 TJ Ohler
Editorial Assistant
Editorial Assistant @zandoprojects | Emerson alum | bookseller | constantly questioning words, often feeling Wordless | 3 time #Pitchwars Mentor he/they

Editorial Assistant
Editorial Assistant
@zandoprojects
| Emerson alum | bookseller | constantly questioning words, often feeling Wordless | 3 time
#Pitchwars
Mentor he/they

In terms of MG, I'm looking for all the above, but would also love to find a novel-in-verse and anything exploring queerness and/or found families for younger readers!

I'd especially love to see trans femme stories across all genres!


Editorial Assistant
Editorial Assistant
@zandoprojects
| Emerson alum | bookseller | constantly questioning words, often feeling Wordless | 3 time
#Pitchwars
Mentor he/they

All things horror!! Think Jordan Peele and Scream. I want your psychological, your slasher, your haunted house, your ghosts and hauntings. If it fits under the horror umbrella, I want to see it.


Editorial Assistant
Editorial Assistant
@zandoprojects
| Emerson alum | bookseller | constantly questioning words, often feeling Wordless | 3 time
#Pitchwars
Mentor he/they

As a small sampling of things I love and am on the lookout for:

Genre-benders (think Romantasy, thrillers with a dash of romance, etc)
Speculative with heart (AS King, Adam Silvera, Kacen Callendar)
Thrillers (Isolated settings and beyond)
Sci-Fi (grounded and/or sweeping)


Editorial Assistant
Editorial Assistant
@zandoprojects
| Emerson alum | bookseller | constantly questioning words, often feeling Wordless | 3 time
#Pitchwars
Mentor he/they

Hi Agents, I'm excited to yell off the rooftops that I'm open to submissions at @Zandoprojects , acquiring a range of MG, YA, and select picture books and graphic novels across all genres! Please feel free to get in touch if you have any questions on the below! #MSWL 🧵