Amy Giuffrida
Literary Agent
Literary Agent @belcastr & wrangler of #TheATeam Lover of books, reality TV, Buffy, coffee, rescue dogs, and tattoos. 💀 My opinions are my own. She/her.
#MSWL Watching Zumbo's Just Desserts (now I want cake, btw) and there is a man who bakes with tradition Greek flavors, but creates modern dishes. He tells about this heritage as he cooks. I want this sooooo badly. Give me culture and flavor and story. PLEASE! #amagenting
#MSWL I am actively looking for YA or MG horror novels that are campy and full of tropes.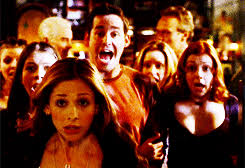 #MSWL I'm dying to see a YA contemporary starring an all girl band in my inbox!!! Think of a mash up between SOME KIND OF WONDERFUL, SATISFACTION, with a dash of SHAMELESS.