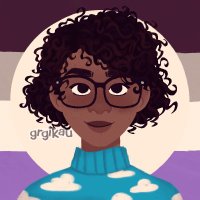 Saribel Pages
Literary Agent
🇵🇷/🇨🇺|She/Her|Literary Associate @GalltZacker | Proud nerd and Kidlit advocate| All thoughts are my own

Literary Agent
🇵🇷/🇨🇺|She/Her|Literary Associate
@GalltZacker
| Proud nerd and Kidlit advocate| All thoughts are my own

Oop! Just want to clarify something because I realize I may have been unclear: I am looking to represent picture books and graphic novels ONLY. I'm happy to look at queries for authors, illustrators, and author-illustrators, but at this time I'm not looking for prose novels.

Literary Agent
🇵🇷/🇨🇺|She/Her|Literary Associate
@GalltZacker
| Proud nerd and Kidlit advocate| All thoughts are my own

I'm not a good fit for stories that feature: Suicide or suicidal idealization, Harm to animals, Sexual assault, Police violence, Picture books that just focus on morals or 'lessons'
I will not be accepting AI-generated submissions.

Literary Agent
🇵🇷/🇨🇺|She/Her|Literary Associate
@GalltZacker
| Proud nerd and Kidlit advocate| All thoughts are my own

Hyper-specific I LOVE: Ensemble Casts; Found family; QPR (queerplatonic relationships); Time travel/multiverse jumping; witch covens as femme solidarity; Non-traditional sports (roller derby, parkour, pro wresting); Tabletop RPGs (and it doesn't just have to be D&D!)

Literary Agent
🇵🇷/🇨🇺|She/Her|Literary Associate
@GalltZacker
| Proud nerd and Kidlit advocate| All thoughts are my own

YA and up: Family dramas that make you LOL or weep, no in between; Cute romances; kids trying to find their people and find themselves on the way; All sorts of spec-fic; all kinds of horror; cyber/solar-punk, with an emphasis on the punk; books that will radicalize kids

Literary Agent
🇵🇷/🇨🇺|She/Her|Literary Associate
@GalltZacker
| Proud nerd and Kidlit advocate| All thoughts are my own

MG: Fun, commercial stories; whimsical Ghibli-like adventure; accessible fantasy; spooky, monster-focused horror

Literary Agent
🇵🇷/🇨🇺|She/Her|Literary Associate
@GalltZacker
| Proud nerd and Kidlit advocate| All thoughts are my own

PB:
-Books that instill a sense of wonder and curiosity, both about the world around them and about their peers
-Books that respect kids' Big Feelings
-Soon-to-be iconic characters and their adventures
-Nonfiction where the author's passion jumps off the page, ala Bill Nye

Literary Agent
🇵🇷/🇨🇺|She/Her|Literary Associate
@GalltZacker
| Proud nerd and Kidlit advocate| All thoughts are my own


Literary Agent
🇵🇷/🇨🇺|She/Her|Literary Associate
@GalltZacker
| Proud nerd and Kidlit advocate| All thoughts are my own

Now that it's clear that he's okay, hyper specific #mswl item:
Picture book about Flaco the owl exploring Central Park/ New York at night