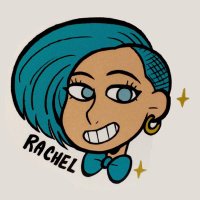 Rachel Stark
Editor
Editor of graphic novels, novels & IP @DisneyBooks ▫️ House Stark; more of an Arya than a Tony ▫️ Opinions my own; pic @JarrettWilliams 's ▫️ gender's a lie🤷‍♀️

Editor
Editor of graphic novels, novels & IP
@DisneyBooks
▫️ House Stark; more of an Arya than a Tony ▫️ Opinions my own; pic
@JarrettWilliams
's ▫️ gender's a lie🤷‍♀️

GRAPHIC NOVEL GUIDELINES: I'm open to GNs for ages 5+ (inc. adult!). Sadly it's hard for me to consider scripts w/o artists attached at this time. Art should be energetic, expressive, inventive, accessible, & commercial—full-color for MG & younger, at least 2-color for YA #MSWL

Editor
Editor of graphic novels, novels & IP
@DisneyBooks
▫️ House Stark; more of an Arya than a Tony ▫️ Opinions my own; pic
@JarrettWilliams
's ▫️ gender's a lie🤷‍♀️

Adult
• Tamsyn Muir's Gideon the Ninth
• Ann Leckie's Ancillary Justice
• Casey McQuiston's Red, White & Royal Blue
• Nnedi Okorafor's Who Fears Death
• Octavia Butler's Kindred
• V.E. Schwab's A Darker Shade of Magic
#MSWL 24/25

Editor
Editor of graphic novels, novels & IP
@DisneyBooks
▫️ House Stark; more of an Arya than a Tony ▫️ Opinions my own; pic
@JarrettWilliams
's ▫️ gender's a lie🤷‍♀️

Adult
• Brennan Lee Mulligan & Molly Ostertag's Strong Female Protagonist
• George Takei's They Called Us Enemy
• Emily McGovern's Bloodlust & Bonnets
• Gengoroh Tagame's My Brother's Husband
• Brian K. Vaughan & Fiona Staples's Saga series
#MSWL 20/?

Editor
Editor of graphic novels, novels & IP
@DisneyBooks
▫️ House Stark; more of an Arya than a Tony ▫️ Opinions my own; pic
@JarrettWilliams
's ▫️ gender's a lie🤷‍♀️

I'm primarily focused on MG & YA comics, but I'd love to find some early reader/chapter book-level comics that feel in line with these interests, and I selectively acquire graphic novels for adults, as well, for Disney's new adult imprint, Hyperion Avenue. #MSWL 3/?