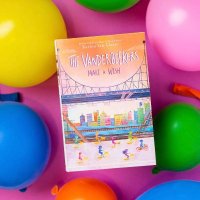 Houghton Mifflin Harcourt Books For Young Readers
Publisher
Editor
Then: Spice Girls, Tamora Pierce, Totoro. Now: Spice Girls, Tamora Pierce, Totoro, editorial
@ClarionBooks
and
@ClarionTeen
. Tweets mine. She/her and they/them.

Emilia Rhodes
@emiliarhodes
Editor
Editorial director at HMH Books for Young Readers and Etch. I tweet a lot about dogs, and think a lot about dessert. All opinions are my own. (she/her)

Lily Kessinger
@Lily_Kess
Editor
barely sentient potato who likes to read. editor
@clarionbooks
@clarionteen
+ @ etch. she/her. mom to Masha (🐈‍⬛) + Olga (🐶). opinions mine etc.