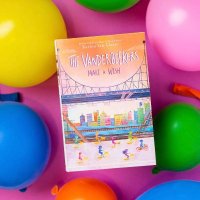 Houghton Mifflin Harcourt Books For Young Readers
Publisher

Editor
Thrives in coastal environments. Offer PG Tips or Diet Coke. Keep out of direct sunlight. For best results, kidlit, webcomics, and Netflix binges necessary.


Emilia Rhodes
@emiliarhodes
Editor
Editorial director at HMH Books for Young Readers and Etch. I tweet a lot about dogs, and think a lot about dessert. All opinions are my own. (she/her)

Lily Kessinger
@Lily_Kess
Editor
barely sentient potato who likes to read. editor
@clarionbooks
+
@clarionteen
. she/her. mom to alien creatures Masha (🐈‍⬛) + Olga (🐶). opinions mine etc.